Brisbane to Singapore. Singapore to Amsterdam. Amsterdam to Nice. That's 44 hours of travel, nearly 23 hours spent enduring a cramped airline seat's best attempt at comfort.
The end result of such a journey is two time-lagged, weary travellers sleep-walking their four suitcases at night, trudging a kilometer or so without a map in hopes of finding a well-hidden hotel. Evidently, French cabs don't run that route, so we must. What we discover: The room is small and unimpressive, the food is uninspired, but the sleep is divine.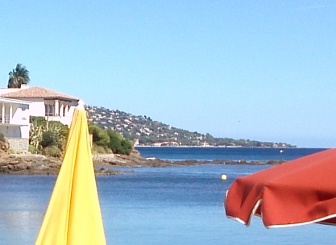 In the morning, after picking up our rental car (a wonderful Peugeot that served us so well), we do the unthinkable. We drive away from Nice, without visiting the Old Town or walking along the beachside Promenade des Anglais. We go west, instead of east towards royal, rocky Monaco. We rocket past Cannes, without savoring any of its glitz and glamor. Even the jet-set resort of Saint-Tropez fails to merit a drive-by.
Why do we bypass these jewels along the French Riviera?
We have nothing against these lovely cities. Someday we may come back and visit them. However, this trip is about experiencing as much of the rural beauty of France as possible, free from the crowds, traffic jams, and fumes of urban life.
The terrain of southeastern France is brown and dry, even though we are close to the sea. Because the Alps are not far away, the land is rich with low-level mountains and hills that are covered with dusty-green trees and shrubs. We cruise along the winding, coast-following roads, taking in the ever changing vistas as we crest one hill and curve our way down and around to the next.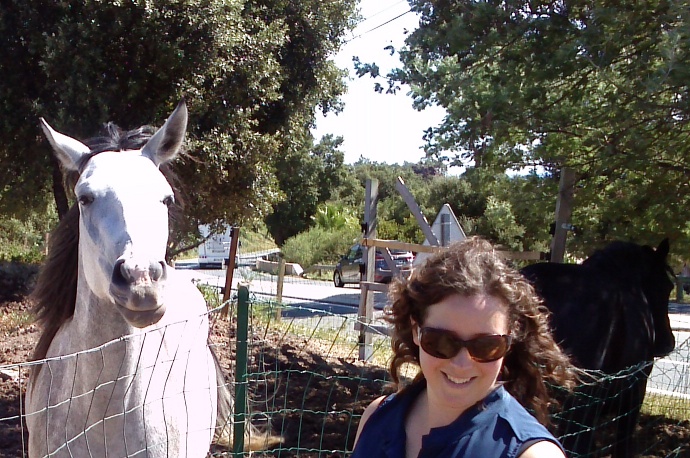 To the side of one road, we notice an irresistible welcoming committee: a small herd of friendly horses eager for a taste of just-out-of-reach grass and a scritch behind the ear. It goes without saying that we abruptly turned off the main road, found a dirt patch to park the car, and ambled over to make our formal introductions and ask for helpful tips on where to go and what to enjoy (strangely, despite their firm recommendation, truffled-grass salad was never found on any French restaurant menu!).
We stopped later for a swim near Sainte-Maxime, across the bay north of Saint-Tropez. Being a week-day in autumn, the sandy beach was nearly deserted. The shimmering azure blue of the Mediterranean sea was cool and welcoming on a warm, sunny day. We stepped carefully through a sandy channel between underwater rocks and plunged in. After the swim, we had a light, tasty lunch at the sea-side cafe. The sardines were delightful, even if not quite the calibre of Claire's amazing sardines-on-the-barbie.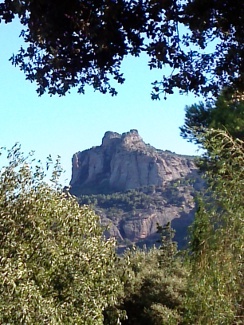 After our afternoon diversion, we head north, inland towards Draguignon. We originally planned to spend a couple of days there with Claire's childhood friend Marjoleine and her family. Sadly, tragic news a few days earlier made this impossible. Still, we wanted to at least see the area where she lives. We even looked for the stables where she rides horses with her daughter, but after cruising down several narrow dirt roads fruitlessly (other than the rows of grape vines we passed by), we gave up the chase and headed out to a lovely hotel in Le Muy.
Le Relais Des Lavandins commands a wonderful view of a long, rocky mountain ridge (rocher de Roquebrune) through the trees, particularly when viewed from the raised outdoor dining area. Small rustic cottages, decorated with flowers, housed simple rooms. We took advantage of the cold pool in the waning sunlight, ignoring the tree droppings that had accumulated through the day.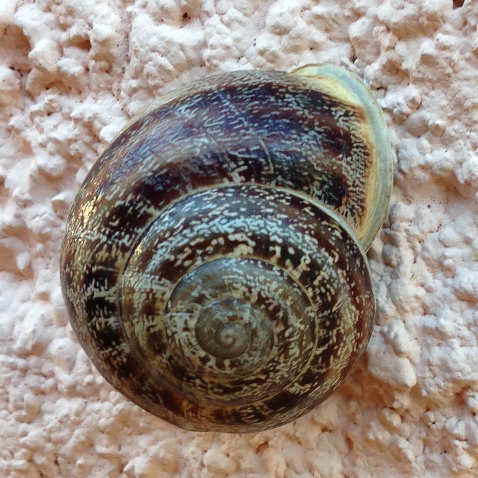 For dinner, Claire finally got to enjoy her long anticipated escargots, flavored well with garlic butter. The rest of the well-presented meal was no less delightful, as we savored it along with the obligatory glass of domestic wine.
Tomorrow we head towards the heart of Provence.