It's quite simple: We flew to Nice to get to Provence. After a lifetime of waiting, we were more than eager to sample this famous region's food, climate, history, culture, landscape, and (in case I forgot to mention it) food.
Driving down the Côte d'Azur to Sainte-Maxime was just a necessary diversion (one of Claire's basic principles in life is that if you are near water or horses, you must stop and enjoy them). So, after eating a proper French breakfast of croissants and baguettes, it was time to head towards the heart of Provence.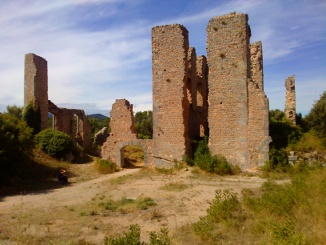 Based on prior research, we had chosen three "appetizer" destinations on today's menu, to whet our appetite for tomorrow's main course: Tourves (with its ruined castle and small roman bridge), Saint-Maximin-la-Sainte-Baume (don't be confused by the similar-sounding name, this town with a lovely medieval section and basilica is different than the seaside village we visited yesterday), and Aix-en-Provence (eek! a big city!).