We do not have much to say about Singapore. A five-hour layover on our flight from Brisbane to Amsterdam only gave us the chance to wander its massive and impressive airport.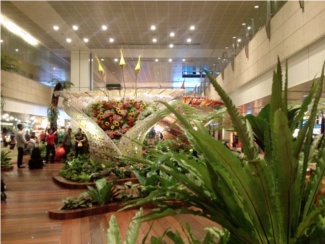 Nonetheless, Singapore makes an outsized and distinctive impression. This is signaled by the captain's rather ominous arrival message: "Please ensure you are not bringing any illegal drugs into Singapore. Anyone caught violating this law is subject to mandatory execution."
This is evidently no idle threat.
By way of background: The country of Singapore is quite small (only 710 km2), situated on the southern peninsula of Malaysia, and snuggled across the Malacca strait by the Indonesian island of Sumatra. It consists almost entirely of one large namesake city, whose prosperity has grown from its founding as a British trading post in 1819 to become the world's fifth largest port, fourth largest financial center, and having the third largest per capita income. More than perhaps any Asian city, Singapore prides itself on being as immaculately clean, briskly efficient, and colorfully attractive as a beautiful, but meticulously managed garden.
All these themes are on display at Singapore's Changi International airport. Its three massive terminals, handling over 50 million passengers a year, are host to hundreds of excellent shops and restaurants. Even using the train system that connects the terminals, it takes 20-30 minutes to walk from one part of the airport to another.
Because of our long layover, we decided to book a room for 6 hours at the Terminal 1 hotel, giving us a comfortable oasis to rest in the middle of an uncomfortable 21 hours of sitting in plane seats. Although our bodies kept reminding us it was long past time to sleep, we left our luggage in the room and stumbled through all three terminals in search of good food and interesting sights.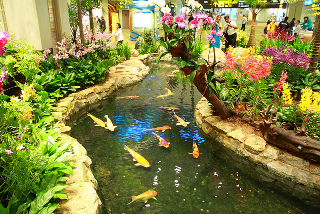 In keeping with Singapore's nickname, the Garden City, the airport features five large and beautiful gardens, most of which we visited. We saw almost none of the thousand butterflies in Terminal 3's Butterfly Garden, as it was very much night-time and barely lit with glow lights. Yet, the two-level garden space was still serene to walk through. Similarly delightful was the very colorful Enchanted Garden.
In choosing where to eat, we decided to skip the many international restaurants and take this opportunity to sample several delightful domestic dishes at the Prima Taste cafe. We ordered and enjoyed laksa (a noodle soup featuring coconut milk, prawns and chicken), soft shell crab (frittered, with a hot chili sauce), spring rolls (with a peanut sauce) and steamed kai-lan, flavored with soy and sesame.
With some reluctance, we postponed getting a massage until Bali (where it would cost considerably less), and instead headed back to our hotel, where we took advantage of its warm and refreshing open-air pool. We swam about a bit in the large, shallow area and then relaxed a bit in the raised-up jacuzzi. Tired people can act a bit like children, which may be why you would have seen us giggling while blocking off various water jets, so as to make huge fountains squirt up the sides. The pool area was immaculately clean and shiny (like every place here), and tastefully decorated around the side with statues and shrine replicas (one topped with a very Victorian looking crown) and a subdued bar playing American and English rock music of the 1970s.
Our tour completed, we took a brief nap in our room, before heading out to board our plane for Amsterdam. This brief taste of Singapore left us intrigued enough to possibly tempt us back some day for a longer visit.